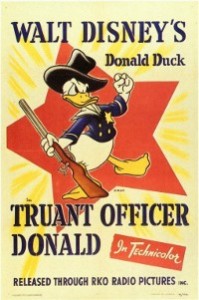 The Oregonian newspaper reports nearly one in four students in Oregon are chronically truant, the majority of them being kindergarteners and first graders.
It was not reported whether they were hanging out behind the bleachers smoking cigarettes, but you can assume they were up to no good.
A study commissioned by the national school attendance advocacy group Attendance Works reveals a shocking twenty-four percent of Oregon kindergarteners missed seventeen days or more of school.
The study found students who miss ten percent of school days in either kindergarten or first grade show dramatically weaker reading skills in the fifth grade.
More significantly, they don't learn to line up to go to the bathroom or raise one or two fingers to signal bowel or bladder intentions. These are both essential life skills, though scientist have yet to entirely agree on why.
The Oregon legislature is on the verge of correcting the truancy problem by making kindergarten mandatory.
Presumably this will include funding for additional truant officers who can document this deviant behavior in the little tykes "permanent record".