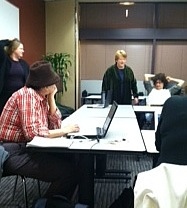 I've been going to a WordPress meetup in Portland Oregon.
It's facilitated by Kathleen Burton McDade.
For the most part it's really good, though I don't exactly fit in. They break the group into WordPress newbies or experienced WordPress professionals.
I don't quite fit into either group.
I've done a number of WordPress blogs, my primary one being for the Washington County Public Affairs forum. I am very comfortable with WordPress, but far from being a professional.
I find the way the WordPress templates use CSS baffling and many of the plugins are downright weird.
None-the-less, I remain a huge fan of WordPress and will continue attending the group because I continue to learn new things.
As long as there is something to learn, I will continue to go.