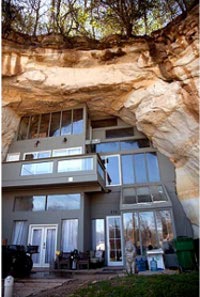 Having a man-cave is one thing, but living in a real cave is something else all-together.
It would be uber-cool.
Curt and Deborah Sleeper built this underground home in a 17,000 foot gouge in the earth created by a sandstone mine from the 1930's.
It is at least forty-five feet underneath a forest and is located in Festus Missouri.
Geothermal heating and smart passive design keeps the interior comfy while completely eliminating the need for a furnace or air conditioning. The home maintains a cool sixty-five to seventy degrees year around.
The three bedroom home is built from glass doors and local materials.
The cave consists of three chambers. Many of the walls are in their unfinished natural state, so you retain the ambiance of living in a cave.
The walls do shed sand, so the family has built interior roofs and placed coverings over areas that need to stay sand-free.
It seems that this would be like being at the beach all the time, with the constant annoyance of having sand in everything. That could get rather old over time.
None-the-less, it is a wonderful alternative to the monotony of modern day conventional housing.
I'd sure like to take a shot at living in this amazing space.
I doubt that will ever happen.